Challenges And Opportunities In Indian SMBs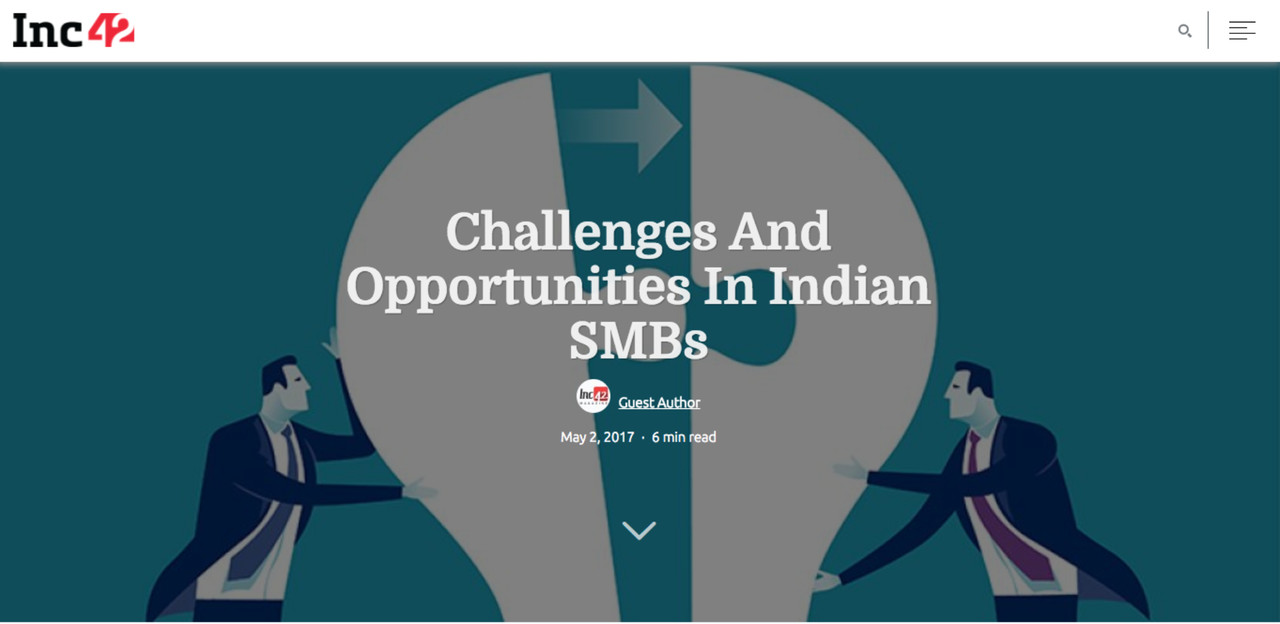 When Vignesh Rajamanickam returned from recession hit UK, he brought back a home utility product for his mother. It wasn't until the "clothes drying stand" received the adoration that it did in the small town of Coimbatore, did Rajamanickam realise that there was a market for this in India. Seven years ago, he invested INR 40,000 as capital and began "Celebrations Home Utility Products." Today, his turnover is in crores.
"Had he not been able to identify an opportunity here, it would not have been possible for him to establish a strong business. The Eureka moment was when he decided to get a digital presence and started taking orders for his business online. Thus, boosting his sales."
The Indian SME industry has grown significantly over the years owing to a rise in better opportunities that can sustain the growth of such businesses. Be it the growing investment opportunities or greater adoption of innovative technology, Indian SMEs are now emerging as one of the most important market players in recent times. They are also expected to surpass traditional corporates in terms of growth and revenue generation within the next couple of years.
Consider this: According to a report by The Ministry of Micro, Small and Medium Enterprises, the Indian SME sector has emerged as one of the fastest growing industries in the country over the past couple of decades. This industry is also playing a vital role in facilitating employment generation and is helping in the industrialisation of rural and backwards areas, thus, reducing regional disparities, and assuring more equitable distribution of national income and wealth.
"The report also stated that the Indian SME sector employs more than 80 million people across 36 million units, and contributes over 45 per cent to manufacturing and over 40 per cent to the Indian export sector. It also contributes about 8 percent to India's GDP."
Although the above-mentioned specifics certainly seem encouraging, we cannot ignore the fact that India still ranks quite low in the World Bank's list of Ease of Doing Business. It almost seems as if market players are too afraid to fully realise their own potential, and are being subsequently held back due to such doubts; which is quite a trivial fact considering the imminent growth of various industries, especially the SME sector that has the potential to create an explosive economy overnight with the right instruments.
Challenges Within The Indian SME/SMB sector
It has taken over 50 years of collective effort from both the government and the people of India to facilitate the growth of the SME sector so far. However, along the way, some industry experts identified clearly defined problem areas within this space that require immediate resolution in order to ease business operations in India:
Difficulty in procuring finance and credit instruments – Unlike Tier I cities, where most businesses have easy access to various finance and credit instruments, enterprises based in Tier II and Tier III cities find it significantly harder to procure the same. However, the gravity of this issue varies across different regions of the country. According to a study conducted by FICCI – a whopping 83 percent of enterprises in the city of Chandigarh stated difficulty in the procurement of credit instruments as a major challenge, while only 77 percent from Mumbai cited this issue as a growth inhibitor.
Lack of basic infrastructure – lack of comprehensive infrastructure is perhaps the biggest drawback faced by businesses within the SMB/SME ecosystem. Since there is still a significant percentage of SMEs that operate within the unorganized space, the lack of basic facilities and absence of marketing platforms makes it extremely difficult for such businesses to thrive and/or compete with stronger players in the market.
The Solution
Nowadays, thanks to the efforts put by the Indian government on promoting digital payment services, several local shopkeepers are equipped with the means to receive online payment from various sources, eliminating any requirement to stand in long lines or queues to withdraw cash. Even local grocery vendors are now able to show every transaction in the bank and get a working capital loan if required based on the same.
Moreover, easy access to finance and credit instruments are gradually boosting the entire SMB financing system as well as facilitating small ticket loans via NBFCs and microfinancing companies. Several fintech companies like Zest money and LendingKart are gradually becoming viable sources for small businesses to access loan facilities on a digital platform.
More than anything else, such digital transactions are playing a key role in helping cash-based transaction businesses to record their income and avail loans without any hassle. Availability of exclusive marketing platforms and distribution networks is another improvement that is being witnessed by many in the SME sector that are enabling many entrepreneurs to augment their businesses across a wider margin and achieve greater growth.
Although it certainly takes time to implement reforms at the level of governance and allow its effects to trickle down, several startups have begun to develop 'disruptive' solutions that directly enable SMEs at the grassroots level. These days, location-based online and offline discovery platforms are playing a key role in helping smaller businesses get discovered locally by increasing their online visibility and subsequently enable business growth.
Furthermore, these disruptive platforms extensively use machine learning, NLP & big data analysis to help clients update their business website, and also enables them to optimise their website for localised discovery by potential consumers.
This shift from the SEA (Search Engine Advertising) -driven market has encouraged many SMEs to take the DIY (Do it yourself) approach, allowing them to stay au courant about latest trends, and also expand their network across the country.
Conclusion
Apart from the aforementioned trends, the Indian SME/SMB sector stands to benefit the most from various government subsidies and policies like the Credit Guarantee Fund Scheme and the Small Industries Development Bank of India (SIDBI) that provide financial assistance to such companies. However, the need of the hour is to introduce more such policies within the SME ecosystem in order to ensure its positive growth in future.